Why powder coat?

Powder coating has applications in the racing world, the tool industry, the furniture industry, and many, many other sectors of the manufacturing world. You'd be surprised by how many things around your home or industry already are powder coated. While it's not a new technology, it is gaining popularity due to its durability and to the endless possibility of color and texure combinations. Powder coating is also becoming known for its environmental and financial benefits.





Colors/Textures: While it's no surprise that the powder coating color selection is endless, it's the range of textures and finishes that will astound you. Finishes range from super-high gloss to low gloss. Available textures include wrinkled, sand-grit, hammered, and two-toned veins. Please go to our links page to visit our suppliers and learn about some of their special powders.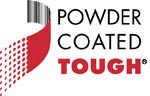 Durability: Powder coating involves spraying finely ground particles of pigment and resin onto the part to be coated. The part is then heated in an industrial oven to melt the particles, causing them to bond to one another and to the part, forming a solid coating. This 'powder coating' is longer-lasting and resists scratching, chipping, and fading more than other available finishes.

Environmental benefits: Unlike traditional wet paints, powder coating contains no solvents and produces little, if any, VOC pollutants. Any overspray from the powder coating process can be reclaimed and reused, requiring no hazardous cleanup.

Financial benefits: Due to the lack of harmful pollutants, powder coating requires none of the costly pollution control systems required by wet paint systems. And the lack of hazardous waste means there are no expensive disposal fees. These factors represent savings that can be passed on to the customer.



---


For more information, please visit the Powder Coating Institute's website











Home | Why Powder Coat? | Capabilities | Links | About us | Contact us

This site is © Copyright Powder River Technologies, Inc. 2002-2018, All Rights Reserved